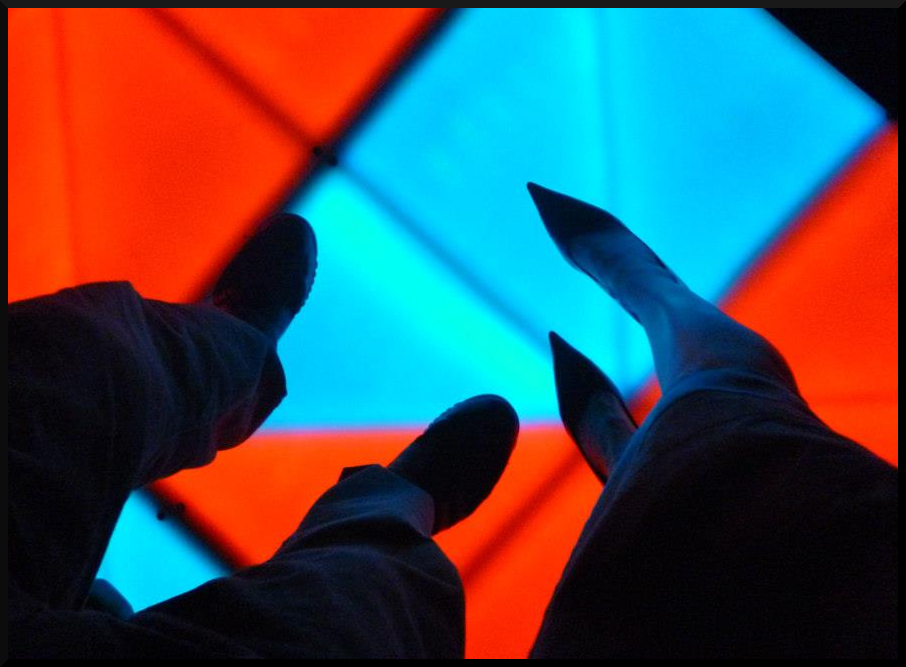 There are unavoidable occupational hazards out there in the modern American workplace but having to wear high heels should not be one of them.
If this is not self-evident already, let's recall that:
— Wearing high heels leads to significant long term damage to one's orthopedic health, causing a lot of pain in the process.
— Other than stroking our dysmorphic sense of aesthetics, high heels are useless in the workplace. Wearing heels does not enhance productivity of any particular task. On the contrary, high heels impede most physical performance as they literally limit one's ability to walk.
— Wearing high heels is expected only from women, making it a sexist requirement and I have a problem with that.
Being a freelance writer, I don't even have to put pants on every day, never mind formal footwear. So, I have kind of forgotten that high heels were a "thing" out there, still forced on women as part of their professional uniform. That is until I started moonlighting in the show business which turned out to be a "shoe business" I cannot abide by.
New York City is basically a real-size movie set for many Hollywood productions. And so, to break up the isolated, sedentary work cycle of the home office, I occasionally sign up as a non-union "background extra" for TV shows and movies.
Even though the pay is nothing to write home about, there is no denying that it's a fascinating scene. You get a behind-the-curtain look at how movie magic is made. The sets are amazing, the logistics of production are awe-inspiring and the background extras are a funky bunch of New York dwellers that are fun to get to know and to observe.
Sure, the hours are dismal: you can easily start at 6 a.m. and go for fourteen hours. And then need to come back at 7 a.m. the next day and do it all over again. Your time is divided between shooting the actual scenes and the be-ready-at-any-moment waiting outside the set to be called back in. Many hours of this can be quite grueling, without opportunity to sit down for long stretches of time and involving uncomfortably cold or hot temperatures.
But I can work with all that!! Because, frankly, the life of an NYC freelance writer / language translator is no less intense than the show biz — but with none of the ego dividends! My schedule can be erratic, gigs come in spurts and, when they do, I go on deadline-driven writing / researching binges for days and nights non-stop. During those peaks, I can get pretty underslept and malnourished, while the rest of the time is filled with mounting anxiety about what's next. These are the occupational hazards of what I do.
In comparison, ten-plus hours on the movie set is not so bad! Being a background extra is all about physicality, energy, attitude and doing what one is told. I get to use my attention span for following instructions and getting into the spirit of the scene, not generating knowledge or catching subtle errors. This kind of work allows my overactive brain to rest and I gratefully welcome the relief.
But, you guys, I just can't with the fucking high heels!
I realize it's cinema and it's all about things appearing exactly right. But is it fair to expect people (ahem women) to wreck their orthopedic health for an illusion? We shouldn't risk it for anything, ideally, but definitely not for the sake of being a visually pleasing blur in the background of a 1-second shot. At near-minimum wage. With no benefits.
The last movie shoot I did involved a very high-energy dance scene that took several hours to wrap up. It required a prior fitting during which I was assigned a pair of 4.5 inch high heel boots that could have only been concocted by Satan himself on a day he was in a particularly foul mood.
But actually, those torture devices posing as shoes were made by a certain well-known New York fashion designer who shall not be named for purely comedic purposes. Instead, he will be referred to by an alias created from scrambling his first and last name: Space Zon.
And so, I wonder if Space Zon ever tried on his own creations. Mr. Zon is a fashionable man, known around town for wearing heeled footwear himself  — just nothing like the towering beartraps he crafts for women.
Mind you, 4.5 inch heels might not even be the end of the world, if they are remotely designed for human functionality. But these puppies were super unbalanced in the heel and if that weren't barbaric enough, the toes were pointed up.
I invite everyone reading this right now to take a moment to do a mock recreation of this scenario with your own foot:
—  First, stand on your tiptoes where the foot is at about an 80-degree angle upwards from the toes.
— Now, try to stretch those all-your-weight-bearing toes UPWARDS.
A physical near-impossibility, no? But women wear crazy footwear like this all the time! Yet, I guarantee you, we wouldn't do this to ourselves without social pressures or financial incentives. Even sexual masochists might want to keep away from shoes like these. Knee surgery is not sexy and neither are the bills.
Anyway, at the fitting, after trying on the abominable Space Zon boots, I asked the wardrobe people to please give me something more humane. But because the outfits had already been lined up and photographed, they were not keen to switch out the boots and assured me that I would be fine. "You look absolutely killer in them," they said, as if that helped. Hearing the word "killer", I actually imagined myself tumbling dramatically down the movie set stairs to my death, Space Zon smarmily smiling and waving buh-bye at me from the top of the staircase…
I've never had any beef with this particular designer but now that I've had the personal displeasure of wearing one of your creations, you're on my radar, Space Zon. Consider yourself my **arch** nemesis…
I went home after that fitting session with major anxiety welling up. I knew for a fact that agony was coming my way on the day of the shoot — and that there would be hell to pay afterwards. I spent the next week buying up knee and ankle support sleeves and rubbing crazy amounts of castor oil into my joints.
Each day leading up to the shoot, the nervousness got worse. And the anger started creeping in too. How the hell is it even legal to expect people to sacrifice their bodies for this bullshit??
And this is where the gender inequality is apparent: male extras do not have to decide between working and injuring themselves or not working at all — but it's a choice women in the same position have to make on the daily.
You be the judge. There are both men and women on the set of a movie shoot, alternating between acting and standing around for hours waiting to be called in. But one group is doing it in loafers and athletic flats, while most members of the other group are teetering on stilt-like foot contraptions. For at least ten hours straight. Can it really be said that the two groups are working the same job? Seems like one of them is laboring harder and, more importantly, in a hazardous environment.
They say American women make only 79 cents on a man's dollar (well, that's a statistic about white women, while African American, Native American and Latina women make even less than that…) But it's not just the salary: it's health compromises that figure into the wage gap equation too. In this particular job as a non-unionized background extra in the film / TV industry, while both men and women get paid the same [pittance], the women are doing lasting damage to their bodies that will, in no uncertain terms, cost them more money down the road!
Back to the movie set. My worry was completely confirmed on the day of the shoot: the boots did not get any more wearable since I tried them on during fitting. Everyone was directed to act wildly enthusiastic. The whole time I was hobble-hopping around that dance floor with an ecstatic smile plastered across my face, my mind was going:
…OH SHIT OH SHIT OH SHIT OH SHIT OH SHIT OH SHIT OH SHIT
OH GOD OH GOD OH GOD
JUST PLEASE PLEASE PLEASE PLEASE PLEASE PLEASE PLEASE
DON'T LET ME FALL
PLEASE PLEASE PLEASE PLEASE PLEASE PLEASE PLEASE
OH SHIT OH SHIT OH SHIT OH SHIT OH SHIT OH SHIT OH SHIT…
It wasn't even about the pain, which was considerable but, like most women, I'm used to grinning and dissociating myself from whatever is going on "down yonder in the foot regions". It was about the very real possibility of wiping out on that dance floor because either one or both of my ankles would eventually snap to the side and bring me down. Or I could very easily slip or be pushed by another dancer — and these leather foot binds were NOT made for regaining one's balance, were they, Mr. Space Zon? Gravity is fake news and equilibrium is overrated anyway.
Could I have spoken up some more? Yes. And risk being branded a problematic presence on the set. The pressure to do what one is told on a mega-budget movie set cannot be overstated. It crackles through the air like electricity. If superstar leading actors like Uma Thurman can be bullied into doing a stunt she knew would get her injured, what chance is there for the rest of us?
Extras are really there to be animated furniture. Talking on or off the set is not in the job description. Complaining gums up the rapid-fire works of the filming dynamics. It is pretty understood that you just suck it up and do what you gotta do. It's true: the crew has a lot to pay attention to and babysitting extras isn't part of the plan (and most of the time they are quite gracious about it.)
And I am very down with cooperating and staying the hell out of everyone's way. But the bottom line is that it was dangerous for me to spend hours dancing in the cruel Space Zon hellboots and though, by some miracle, I didn't take a spill that night, I added more damage to my joints.
Since that time, I only sign up for the dowdier background roles, where I am allowed to bring my own shoes that are not high heels. As you can imagine, this cuts down my options significantly.
But, like I said, I just can't with the high heels, not anymore. I spent over a decade of my physical prime running around in skyscraper pumps that would put RuPaul's drag queen brigade to shame. I was that chick on the dance floor doing pirouettes in breakneck platforms. Because catering to the male gaze was the default behavior at the time and I was classically too immature to not be flattered by the attention and too shortsighted to care about future health fallout.
And then there is the fact that, until recent years, flats were not an available retail option for young women: ladies' footwear almost always had some sort of unnatural elevation, it was just a question of degree of discomfort.
But now, we have sophisticated foams, gels and goos to cushion our overworked extremities!! And kick-ass athletic footwear. And I'm sure attractive "feminine" shoes could also be designed with better materials and health priorities in mind (are you listening, Space Zon & Co.?) No one should subject themselves to torture by bad footwear when memory foam technology exists. I love it so much, I even have a marketing slogan for them:
"It's Memory Foam — or Go Hoam!"
Memory Foam, if you're reading this, it's my humble gift to you for enhancing my mobility.
For what it's worth, even pampered celebrities are giving up high heels because the self-abuse is too much. Of all people, Victoria Beckham, the poster child for strappy stilettos, has tossed the pumps for flats and seems pretty unashamed about it. Is this the Apocalypse?? Or is it that, once women mature out of needing to please everyone, they can take a critical look at all the unhealthy, self-destructive vanity practices they engage in to impress men and "society at large" and decide that they are over it?
Well, that's one part of it. The other, sadder, factor is that after many years of mistreatment our limbs just give out and refuse to function under stressful, unnatural conditions, leaving us no choice but to start wearing "comfort shoes"…
And so, it's pretty much good-bye to being a film extra for me. Being that I am not even an actor, this is mercifully not a big deal, though I'm pretty bummed to have to give up work over sexist double-standards.
One upside: not having to suffer through any more bone-bending squeezewear by the likes of Space Zon and his sadistic fashionati colleagues.
If there is a Hell, I hope they spend an eternity there walking around on 4.5 inch iron spikes nailed directly into the bottoms of their feet and wearing sausage casing from actual sausages that is several sizes too small to breathe or move in… I mean, that's actually still not as painful as what their models have to endure on the runway, but let's be generous with our hell-wishing.