Monthly Archives:
February 2016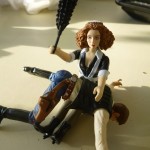 This gallery contains 12 photos.
😈 HAPPY VALENTINE'S DAY, EVERYBODY!  😈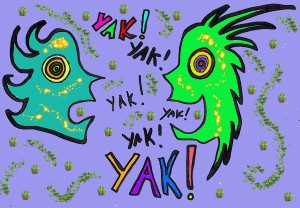 Have you ever been surprised or horrified when you catch yourself publicly saying something completely out of character for yourself and wonder: Why did I fall for the obvious bait and get trapped into a political argument? Why did I brag and show off so obnoxiously to friends all night? Why did I reveal so much personal, private stuff to a stranger, or worse, someone from my own social network? Why did I say something so catty about so-and-so, when I really do not harbor any negative feelings towards that person? Why did I help pass around a rumor, though I quite consciously and as a matter of principle detest gossiping?
Sure, alcohol comes to mind, but let us not focus on it because it is a catalyst, not the cause of the phenomenon. It is true that the more relaxed and "loosened up" people are by alcohol, the more they tend to lower their filters and yak with wild abandon. But drunkenness is not a necessary condition for gossip and other TMI blunders: I would wager that people gossip just as much over tea!
The true culprit is the social climate created by the awkward combination of fun and anxiety. Even though we all like to think we are in complete control of ourselves, social contexts dramatically shape our behavior how we express ourselves.
Socio-economic necessities force us into unwanted interactions (having to talk to bosses, associates, family members) and social pressures dictate the topics we end up discussing publicly. One moment you're having innocent lunchtime banter with a coworker, next thing you know, you're talking about Johnson's outfit and speculating about her sexuality….
I have always considered myself a keeper of secrets and not a passer-arounder of confidential information. Likewise, I have always felt uncomfortable around people talking negatively about others behind their backs and avoided fueling the fire.
And yet, on a number of occasions, I have caught myself saying something suggestive about people – with remarks that felt innocuous and funny and a propos at the time – but seem questionable or straight-up inappropriate in retrospect. I meant no harm, I swear, but this fact neither excuses the behavior nor lessens the resulting shadow of doubt cast upon another person's character.
This problematic tendency to get carried away with unintentional mudslinging emerges when we get swept up in the group dynamic: everyone is "on a roll" of discussing others and one is instinctively drawn in, compelled to contribute something funny / interesting / intriguing to the lively conversation. If the tone of the gathering is to badmouth someone, badmouthing becomes easy and natural. These little acts of slander happen under the guise of humorous, friendly, playful chatter and seem to especially thrive in certain groupings, like those of colleagues, relatives, teammates and super-closely-knit friend cliques.
Certainly, some people are quite purposefully vindictive and actively stir up "drama" as a means of self-validation. But most gossipers are not being harsh or acting as a saboteur intentionally: they are simply in the habit of mindlessly recanting other people's secrets and thoughtlessly criticizing and ridiculing others – to keep boredom at bay and to find something light-hearted to connect over with people.
Unfortunately, when you get enough gossip instigators together, it creates enough momentum to suck in the rest of us who, under other social circumstances, would not think to say something inflammatory about a peer. But when inside the rumor mill, we suddenly find ourselves blabbing away, surrendering to the impulse to fit in, to go with the flow. You really don't have to be a mean-spirited person to gossip but it becomes a slippery slope, if you go there. The potential social fallout from publicly maligning a friend, colleague or relative can have unintended harmful consequences for the target of gossip as well as people who started and passed it around.
There are myriad explanations in the social sciences for why people gossip. For instance, we have an evolutionarily developed psychological propensity to crave social acceptance – and gossiping offers a temptingly fast ticket to popularity. Gossiping and sharing secrets also strengthen camaraderie and increase a sense of belonging to an exclusive club or community when we share intimate knowledge with the select few individuals. It makes us feel special to be a part of a "circle of trust".  
Another major component of universal human psychology engaged in gossip is the rule of reciprocity: that magnetic sense of obligation we feel when people say or do "nice" things for us. Symmetrical, ritualistic exchanges of favors keeps the power dynamic balanced, which is why most of us do not like to feel indebted to someone, not for too long. So, when people around us are sharing bits of gossip, they entrap us into feeling that we, too, must now "contribute" some sort of insider information, in kind. We respond by sharing more gossip.
If one willingly surrounds oneself with thieves, thievery will eventually become the "new normal" and the person runs a pretty high risk of succumbing to it. Likewise, gossiping and other social vices, like casually throwing around sexist and racist language, can seep into our behaviors inconspicuously and organically. We see people we love, admire or fear saying and doing all kinds of things and we can't help but want to emulate them.
So far, my conclusion is: if you don't want to be a gossiper, avoid social scenes in which judgmental or mocking commentary about acquaintances is the main source of entertainment. Otherwise, sooner or later, you'll likely find yourself caving to human nature and, if you are like me, feeling like a real jackass and kicking yourself for it later.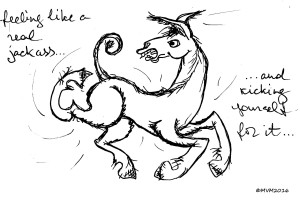 Our peers carry huge potential in shaping our social habits and setting roles, norms and boundaries. It can be hard to recognize "toxic" environments if the venom is not directed at us personally and when everyone is laughing merrily and having a great time. Complicity in bullying thrives in the same environment, by the way. Gossip can certainly become an indirect tactic of bullying. It can even seem that we are all "getting away" with it. But, no, we are not. There is a golden tenet in social interaction and it goes as follows:
The way a person talks about others with you is the way this person will talk about you with others.
Period. No exceptions. And because this rule seems so elegantly fair, a small, idealistically moronic part of me keeps hoping that, by the same logic of justice, some social grief in life can be avoided by being a decent person. If I keep my karma cache clear by refraining from saying "iffy" things about others, I may be spared being put through the ringer when it is my name's turn in the grapevine spotlight. Right?
As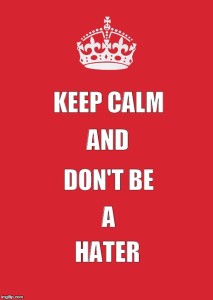 if!..
The pragmatic realist in me who has been alive (and actively so!) a number of decades among fellow humans knows this to be an unreasonable expectation, to put it mildly. No measure of cosmic justice will prevent haters from hating. The nectar of meanness is just too sweet for some to give up 🙂 The rest of us should try really hard to not feed the trolls.