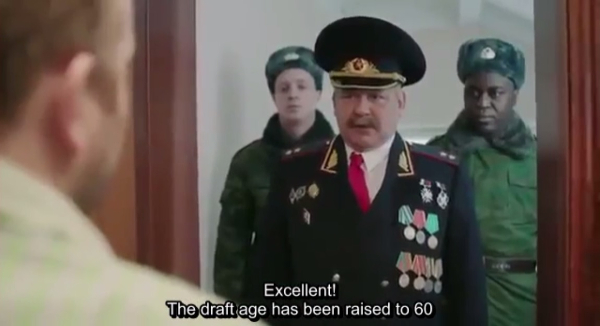 Around February 16th, 2018, a three-minute video of unspecified origins began coursing through the Russian Internet, advocating the importance of voting on Russia's upcoming March 18th presidential election. (Russian source)
The video relies on satire to playfully frighten its audience into voting on election day by showing them the "worst case scenario" of not voting. In this instance, the "terrifying" alternative reality dreamed up by the (particularly unpleasant) protagonist is one in which a dabbing Russian general shows up at his doorstep accompanied by a black solider, ready to draft his middle-aged ass into the army; his son, wearing a dumb uniform, is asking for an astronomical sum of money to hire a private security outfit to keep him safe at school; the kitchen is occupied by the "foster gay" who, according to the laws under the new president, is now this family's responsibility since he was abandoned by his lover; the final straw of doom comes when an omniscient automated voice announces that bathroom visits are not unlimited.
In the end, the leading man wakes up in cold sweat, fiercely ready to sacrifice his Sunday morning to voting in the presidential election — "Before it's too late!!"
The internet consensus seems to be leaning toward assuming this is a pro-Putin, anti-liberal-opposition propaganda piece and the satirical "dystopian nightmare" presented is how Putin's guard imagines the unraveling of the moral fiber of their society if anyone other than their fearless, shirtless leader takes the throne bearing his immortal, 15-year-old butt-print.  Certainly,  the video is packed with all things conservative Putinists hate most: sexual and racial minorities, sweet American dance moves, having to pay for stuff, serving one's country… The bogus threat of having the Russian military draft age raised to 60 kind of smacks of Obamacare-era "death panel" rumors, similarly intended to scare the bejesus out of the American senior citizens (which worked…)
Then again, who is likely to keep around a mandatory military draft in the first place? My bet is on the totalitarian dictator "candidate". And that "imbecilic" school uniform that bothers the main character? — it's very reminiscent of the Soviet-time Young Pioneer uniform — that's Comrade Putin's territory too… So, there's a part of me that thinks that this video is a little too on the nose, you know? It's the optimist in me, but I'm keeping my fingers crossed for good old non-partisan trolling.
But — hey, hey, hey — check out the video — which has been translated and subtitled into English for your convenience by yours truly — and decide for yourself!
Enjoy. Share. Discuss.