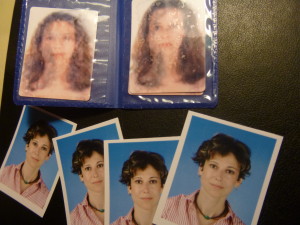 Rummaging through my passport pouch to double-check its expiration date, I came back up with a set of old unused visa photos. It may be self indulgent but I like to look at these photos once in a while. Since these pictures are usually taken when I'm already on the road somewhere, the face that looks back at me from them is the face of a person who is doing A-Okay.
It is important to reconnect with this version of myself on occasion – this person at the height of self-esteem and mental and physical fitness. This is my most uninhibited and confident "me". It does not have to mean the wildest / craziest "me" but it is me when I feel the freest.
These snapshots are the faces of a person in perpetual motion. Those super faded Brazilian pictures, they are useless as visa photos but they summon forth the "me" from that day in time. Frozen in a photo, right there, I will always be that traveler with a mondo migraine who was sent on a wild goose chase around Curitiba to hunt down a gazillion different stamps for a Paraguayan visa that is rivaled only by Russian visa in cost, bureaucracy, labor-intensiveness and dark magic involved in its conjuring.
The fact that I remember having a really bad headache is, actually, a very positive indicator of how great my life was at the moment. Living in the American Northeast, my migraines are so regular that they all blur together into one long hellish game of "chicken" between me and pain. If I remember that Brazilian migraine, it means it was a blessedly isolated incident at that time.
The four undamaged copies are of the picture taken in Thailand for a Lao visa. The old-fashioned photographer fetched me a man's shirt to cover up my tank-topped shoulders for the shot. At that moment, bitterness and disappointment were weighing heavily on my heart and I was going through a "withdrawal" after some major emotional poison. And weed. I had also not smoked weed in a while and, as usual, it was making my dreams a little too intense and exhausting.
Withdrawal is the initiation of recovery and spending an emotionally difficult time on the road can really serve as salve for the hurting soul. On this trip, largely staying away from substances and parties, I got the exact communion with nature and with culture I knew I needed and had set out to find. I returned to the States excited about getting back to work – if that is not the mark of a miraculously transformative vacation, I don't know what is. And so, I dig looking at stills of myself in that moment – it gives me a positive charge of spirit, transmitted through the memory, transformed into a renewed intention to be like that again.
Looking at these pictures, I am also reminded that youthfulness and beauty are still within reach. After a couple of weeks of being on the road, I usually get a whole second wind of energy. My senses become uncorked from heavy mental grime, my skin tightens, my facial features relax, my back un-pretzels, my neck de-petrifies itself, etc., etc., etc. It's nice to see a tan, strong, healthy version of myself in those photos – it gives me hope.
By the way, if you can carve out a few months on the road, you can work up to some serious traveler zen bliss. It will give you enough time and distance to look back at what you've left behind – as well as think forward to what is waiting for you – and re-evaluate those things in light of being more relaxed and in touch with yourself. Seriously, if you haven't taken a prolonged solo trip yet, I cannot recommend it enough. Do it as soon as you can, really. It is good for anyone. And it is a vital necessity for some of us 🙂 Take yourself on a "walkabout" and, in weeks / months, you will re-emerge as a more confident, calm, wise, fit and all-around badass version of yourself.
And then, at times when your life has become a little too settled and static and you feel the ole Wanderlust tugging and scratching at your feet, you can dig up those visa pictures and start planning the next adventure.